Okay, so there's this lady, right? Only she's not a lady, she's basically just a brain and a spinal column, but she's got this cybernetic body which is
very
lady-like. It's special-made by the government, 'cause she's a government agent - she leads a team of elite, clandestine special ops dudes, and they're basically in charge of making sure nothing apocalyptic happens.
It's a neo-noir mystery sci-fi high-brow ultra-violent political-intrigue
thing
from Japan, and it's called
Ghost in the Shell.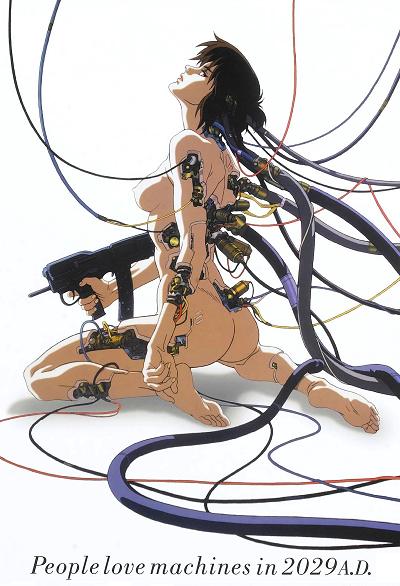 In my youth, there were two important anime films.
Ghost in the Shell
and
Ninja Scroll.
Ninja Scroll
perhaps simply because I saw it first, and it was the first animation I ever saw with sexuality and serious blood-letting. I know that sounds a bit creepy, but when I was fifteen this was a total revelation.
Ghost in the Shell
- though containing both breasts and brutality - was a very different beast. North American animated features only seemed to have one way of addressing their audience: "I'm going to teach you a valuable, wholesome life-lesson," they'd say. And then, lord help 'em, they'd try.
Ghost in the Shell
, on the other hand, starts off as a neo-noir action-mystery and ends up an exploration of the nature of human consciousness, and life itself. It doesn't pander, it doesn't preach - it tugs you along with great direction and story and slowly begins to lay its cards on the table - "consider this," it says, before it proceeds to blow your mind.
The (now legendary) anime was born, as they often are, from a manga. An active creator in the medium for over twenty years, Shirow Masamune penned the serial in 1989.
I picked the complete manga up over the summer, and I must admit, it ain't exactly my cup of tea. This is, likely, due to it being my umpteenth exposure to
Ghost in the Shell
, and the manga feels... impure to me.
That is to say, the manga is packed with science jargon and political intrigue and slapstick comedy - all crammed in so tightly together there remains no sense of a greater discussion being had. It finds its way to a conclusion very similar to the anime's spectacular ending, but the whole thing is very
dense
to me - too much content, and not enough consideration.
It's worth noting that there are three separate and distinct
canons
for
GitS.
The original manga and its sequel (
The Ghost in the Shell 2: Man-Machine Interface
) are one continuity. The universe in the
Ghost in the Shell
film is likewise continued in
Ghost in the Shell 2: Innocence
(which, while just as existential and high-minded as the original, has - I feel - its head up its own ass)
,
but perhaps the most complete exploration of the world and characters created by Masamune is the
Stand Alone Complex
series.
If one should view and love
Ghost in the Shell
, I recommend making
Ghost in the Shell: Stand Alone Complex
your next stop.
The first season balances itself between episodes that build the over-arching plot (which is resolved by the end of the twenty-six episodes), and stand-alone (heh) episodes which further explore the world of Major Motoko Kusanagi - and the world here is remarkably well-realized.
Ghost in the Shell
is one of those
great
science-fiction futures - a world that features the spectacular and the mundane in equal measure, resulting in a world that feels more possible than most (certainly not all) other attempts. High-technology mixes with vulgar appetites, and gleaming, pristine towers stand distant watch over crowded slums.
The first season of
Stand Alone Complex
is at its best when it explores this universe, for while the over-arching story of The Laughing Man is an enjoyable mystery for most of the ride, by the end it feels like
SAC
is trying too hard to carry on as intelligent discussion as the film - but my biggest complaint is the ridiculous get-up Major Kusanagi sports most of the time.
It's just a little... much. Or a bit
too little
, if you get my drift.
Thankfully, the second season,
S.A.C: 2nd GIG
fares a bit better, overall (they also give her some goddamned
clothes
). Stand-alone episodes now mostly explore Major Kusanagi and her team members in Section 9, and the season's plot arch is much more interesting.
The world, its technology and the implications of artificial intelligence are all still explored here, but it all feels a bit more important, a bit more intimate than the first season.
If you find yourself a fan of
Ghost in the Shell
, its characters and its world, both seasons of
Stand Alone Complex
are worth viewing - but
2nd GIG
is the stronger of the two.
* * *

Few North Americans are going to become familiar with
Ghost in the Shell
through the series or the book, of course. There's a reason the series exists, a reason Stephen Spielberg is trying to turn the universe into a live-action movie - and it's not the book, it's the film.
It's... it's really incredible. I'm quite fond of this quote from James Cameron (who created his own incredible and believable sci-fi universe with
Alien
), which phrases it much better than I ever could:

"A stunning work of speculative fiction, the first truly adult animation film to reach a level of literary and visual excellence."
[update]
Ridley Scott directed
Alien
- James Cameron made
Aliens
. I'm rather displeased to have mixed up the two.
[/update]
Ghost in the Shell
, directed by Mamoru Oshii.
This film still sparks strange internal discussions in me.
So much -
so much
of Hollywood films and science fiction in particular of the past twenty years can be traced back to
Ghost in the Shell
- the world it posits and the conversation it begins.
If you've ever enjoyed an anime, I cannot recommend the film highly enough. Not so much its sequel.
If you like the film, and want to spend more time in this world with these characters, definitely give
Stand Alone Complex
a chance.
The manga that began it all, however, I wouldn't put very high up on my list. Much of the film (and the series) can be found in their larval form in the book, but for my money the property didn't become
great
until Mamoru Oshii got his mitts on it - still, it's interesting from that perspective.
Oh, also, if you're in the market for the film, get the DVD version.
There's a Blu-ray version called
Ghost in the Shell 2.0
which "remasters" the film in HD, but also did us the questionable favor of replacing Major Kusanagi here and there with a computer-generated version, which is really, really jarring.
Definitely go for the original, or hope they actually just remaster
that
one day, instead of trying to fix what wasn't broken.